Moonshine Mining Company
is the premier location for gemstone panning and mining attractions in our area. Gemstone and fossil mining is a fun filled activity for all ages, but it's more than just that. While panning you many find amethyst, rubies, emeralds, arrowheads, crystals, and much more that results in a precious keepsake to remind you of your treasure hunting experience in the Mountains of West Virginia. No matter which one you find, Smoke Hole's Gem Mining facility ensures a great find and an unforgettable experience.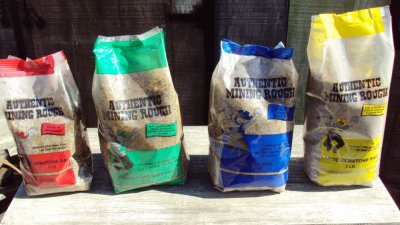 Mining Rough Bags
are enriched with a satisfying variety of large specimens. With over 50 different gemstone varieties and over 30 different fossil types in our mixes, no two bags are ever alike.
Gemstone Mining is seasonal and generally runs from April 1st thru October 31st depending on the outside freezing temperatures. Package deals are available for larger
groups
if needed.